Greetings and Salutations. 
We've been in recovery mode since our epic road trip last weekend. Between Wednesday and Sunday, we logged a solid 1800 miles, culminating in a 14 hour trek from Manhattan all the way back to Nashville.
Following some extra preparation on Tuesday to polish up some new material, we rested up and carb loaded for our Wednesday afternoon departure. The first stop of the run found us at Preservation Pub in Knoxville, TN. Upon arriving at the venue, we backed Karl (the Maradeen-mobile) down the absurdly narrow alley to the load in doors of the Pub. At first glance, everything looked the same inside, but after closer inspection we noticed that they had completely redone the public address system. In the past, the sound there had been good for u, but the upgraded system improved on that ten-fold. As a band that relies heavily on instrumental communication and conversation, a clear monitor mix, and by proxy front of house mix, makes our lives so much easier. 
No matter where in the country you are, it can be very difficult to bring people out late at night on a Wednesday. We've had raucous crowds for our past hits at the Pub, but those were on weekends during the school year when thousands of Volunteers are roaming Market Square. This mid-week mid-summer show looked to be a total bust at first, but as the night went on and we got locked in musically, a small but enthusiastic crowd began to flow in. It was impossible for us to be disappointed by the amount of people due to their sheer rowdiness for the music we were producing. That night's set, which can be found 
here
, featured the return of "Return of the Grevious Angel," an old Gram Parsons tune we worked up long ago but had shelved until that night, and the debut "Be Yourself," a new original track written by Whit. Other highlights include the segment of "Slave" > "Touch of Grey" > "Always Want" near the end of the set.
With our next show nearly 7 hours away in Washington, DC, we decided it would be best to knock out some of the drive that night to save us some stress in the morning. Whit put on his captain's hat and guided our vessel up through the mountains of East Tennessee all the way to Bristol, Virginia where we holed up in a Quality Inn for the night. A late arrival and early morning (noon) checkout had us chugging coffee and struggling to get everyone showered before housecleaning came through. As no Maradeen tour is complete without the South's greatest contribution to the world, we hit the local Chick-Fil-A for some deep-fried, spicy, saucy, savory goodness. 
Back in May on a trip to Washington and Lee University, we learned that Virginia is very, very wide and that it takes a very long time to get across it. Lexington, VA, home of W&L, is barely halfway through the state, and Washington, DC, on the far eastern edge of the state, was our destination on this beautiful Thursday afternoon. Thankfully, the skies were bright and clear as we cruised along I-75/81 through the rolling hills. To curtail some of the boredom in the back benches of the van, we put on Inglorious Basterds and let the dark comedic genius of Quentin Tarantino guide us into The District. Our first glimpse of the city was the Washington Monument, almost immediately followed by the backside of the Lincoln. 
We pulled up to Bayou just before sunset, and as was the case with the Pub in Knoxville, we had to navigate a very narrow pathway on our load-in adventure. This time, it included a bridge over whatever refuse had recently flown out of their kitchen, fitting for a bar named after a type of swamp. Pre-soundcheck festivities included catching up with some old acquaintances and becoming acquainted with some delicious, if not delightfully spicy, cajun pasta. A huge thanks to Laura Steitz and all of the other local friends for coming out and partying and celebrating good health and good times. Some technical difficulties tried to derail our fun, but we weren't going to let that get in the way of rocking your faces off for America.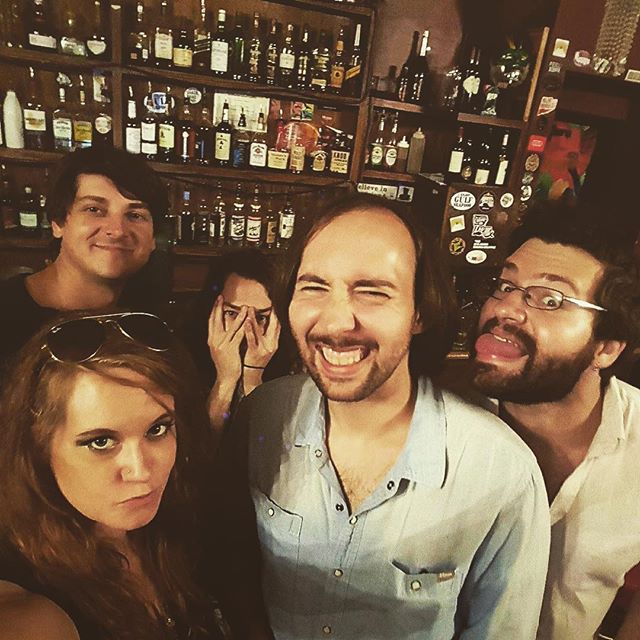 P.S.
Thanks, Obama, we had you on the guest list and you didn't even bother stopping by...
After a hasty load out, we headed to our respective hosts' houses and rested up for a big day of exploring. Kaitlyn and Thomas were able to watch the President take off from the lawn of the White House in Marine One as he headed off for some diplomatic adventuring in Africa. Sterling, Russ, and Whit took a more historic approach to the city, venturing to Ford's Theater to get an up close look at the story of President Lincoln's final day. As we regrouped by the van, we were met with a large parking ticket that we just nearly missed being written. Thankfully, after communicating how certain details had been miscommunicated, we resolved everything and kept the Mara-train from being derailed halfway through its journey and we were able to head out towards the Big Apple with the wind and sun at our backs and smiles on our faces.
One of the more interesting aspects about New England and the Northwest United States is the density and proximity of the metropolitan areas. In the same amount of time it would take to get from Nashville to Knoxville, a drive where the biggest city you pass has maybe thirty-thousand people, we went from DC; through Wilmington, DE; Philadelphia, PA; Newark or Trenton, NJ (forgive me, they were all running together by that point), and eventually on in to New York City proper. The sheer size of New York is an incredible sight to behold. If I had to guess, you could fit 10-15 Nashville metro sized plots of land into just one of the five boroughs of the big city. 
We arrived in Brooklyn as the sun was setting over the Hudson and dropped off Sterling and Russ at Golda's apartment for the night, then Whit, Kaitlyn, and Thomas ventured on into Manhattan to Paul Bode's. We want to extend an enormous amount of gratitude to those folks for opening up their houses and beds to us, who knows where we would've been stuck without them. After getting settled, we made our way out into our respective neighborhoods for a small sample of the local flavors and libations.
An early morning wake-up call, Russ and Sterling ventured down into the bowels of the city in an attempt to conquer the subway system on their way from Brooklyn to Manhattan. Hyped up on coffee and authentic NYC omelettes, they surfaced near Times Square and set out to find more coffee to help make it through the day and stay alert until the midnight set at Rockwood. After topping off their caffeine tanks, a trip to the Museum of Modern Art opened their eyes to different and novel perspectives on social injustices and just what exactly qualifies as art. After that healthy dose of culture and another stressful adventure through the subway system, the band reconvened with a magnificent view of the Atlantic Ocean and the Statue of Liberty on the southern tip of Manhattan. Another huge bundle of gratitude and thanks to Kemper and Meg Pierce for their hospitality at the Pier, we couldn't have made it through the night without you guys.
With 4 hours left to go before load-in and a full day already behind us, we made our way back to Bode's apartment to relax and recuperate with a view of the skyline and sunset that can't be put into words. Spirits started to rise as some old friends and new faces made their way over and helped us get hyped up for the show. After what had already been a twelve-plus hour day, we loaded up into Karl and headed to the venue. Rockwood Music Hall hosts multiple bands every night, so load in and out is a stressful, quick process. Thankfully they have an efficient staging system in place to help things move as smoothly as possible for five-piece bands to changeover in fifteen minute intervals.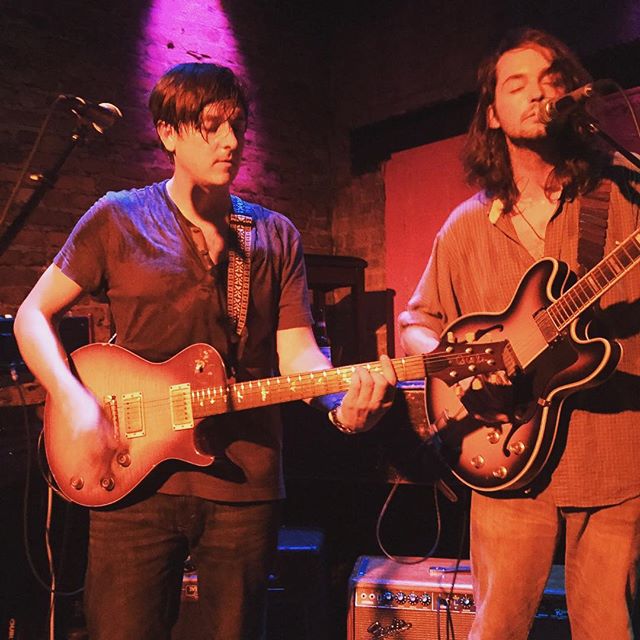 We wasted no time kicking the show into high gear with a rousing rendition of one of our newest tracks, "Can't Stop Loving You", followed immediately by a somewhat condensed (10 minutes on the dot) take on Hot Chocolate's "Everyone's a Winner". Some short circuits in cables and a broken string attempted to put a kink in our chain, but we powered through, as became the theme of the weekend, took what was given to us and turned our troubles upside down into a rocking time. You can hear the Rockwood set 
here
, highlights of which include a dirty version of "Messin' Round With You" and a "Restless" that flies into other dimensions. 
After the show, we took one more stab at the big city nightlife, but the long day had taken its toll on most of us and we called it a night before the long drive ahead of us on Sunday. We hit the road around 1 in the afternoon, Eastern Time, and started the long haul back home. Everyone took turns in the driver's seat as well as the back bench to catch up on more sleep, eventually rolling back into Tennessee just as the clock struck 3 in the morning. 
Be on the lookout this coming week for our first trip to Columbus, GA on Friday, then back at Nashville at our favorite spot on Demonbreun, South, on Saturday with our friends BYOG from Charleston!