What a week, y'all!
We had an early start Wednesday morning, leaving Maradeen Headquarters at 9 AM to start our journey towards the East Coast. With the sun at our backs, we pulled into Charleston, SC just as the sun began to dip below the horizon. Load in at the Pour House was as pleasant as we could've ever hoped for, with local favorites The Reckoning putting on their weekly Dead on the Deck concert. Their take on "Shakedown Street" was especially poignant, with the line "Don't tell me this town ain't got no heart" mirroring the name of the event held there the previous night in support of the tragedy that had befallen the town just a few nights prior. Having played the Pour House back in February, we had a small armada of local Maradeeners who made the journey out on a Wednesday night (something that seems quite foreign to Nashvillians like ourselves) to boogie with us. Immediately following our set, a monsoon of biblical proportions began falling from the sky, only adding to the humidity of a coastal town in the summer. Thankfully, the rain brought in any stragglers still out on the deck for our friends in BYOG's set. A huge thank you to them for inviting us to share the stage with them. Be on the lookout for them to join us back in the 615 later in the fall! With a six hour drive to Richmond staring down at us from the next morning, we loaded up the van, and with the loving hospitality of some of our good friends in Charleston laid our heads down for a bit of rest.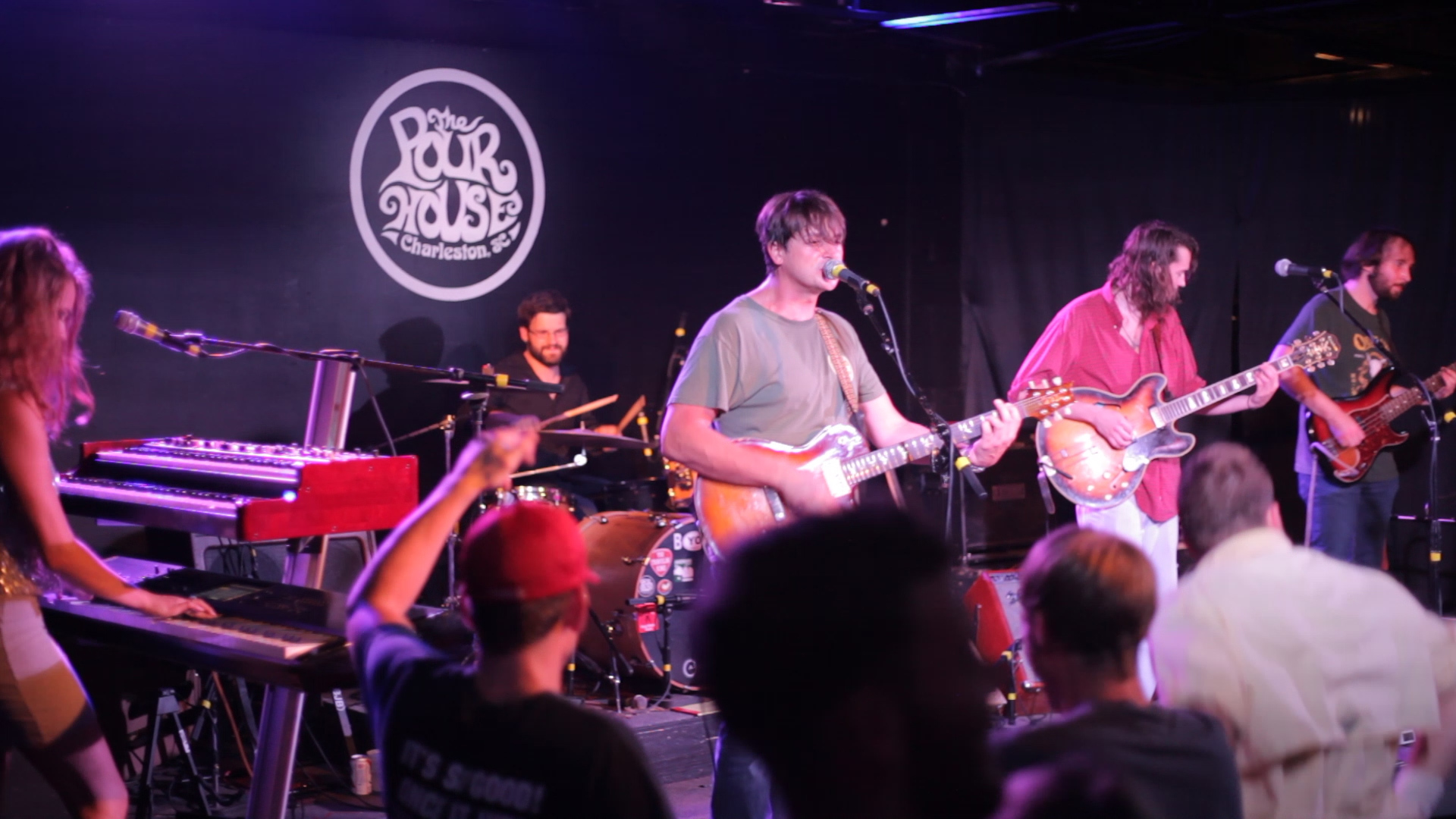 No Maradeen road trip is complete without a stop at Bojangles, so before setting our compass North, we loaded up on chicken biscuits and black coffee to sustain us on our quest towards Virginia. The mid-day drive had a glaring lack of nice scenery, so we set to work on perfecting our barbershop quartet harmonies. Keep your eyes pealed and your ears free of wax for more of those daily updates as we head out on more road trips this summer. 
Our big white spaceship landed in Richmond around 6 PM local time and we were rearing to stretch our legs and start the load-in process. Unbeknownst to us, it was the 6th anniversary of Michael Jackson's untimely death, and a large group Richmond locals had rented out the venue to party in memory of him. After an impromptu dance session to MJ's greatest hits and a gourmet meal of some of the best bar food we'd ever tasted, the Camel cleared out and we were able to load our gear in and settle down for a moment before showtime. As you will come to see, torrential rain became a signature detail of our escapades this week, and Richmond was no different. About an hour before showtime, a light rain began to fall, and within minutes, the whole 8 lane street in front of the venue was now a raging torrent of rainwater. Local songwriter 
Russell Lacy
 was kind enough to warm up the crowd with his sad, yet hopeful folk rock. While the rain may have kept some local music lovers from making the drive into town, it must've made the ones who come out quite a bit wilder. A big happy birthday to our friend Mike who we met back in Columbia, and thanks for bringing your crew out so we could celebrate with you!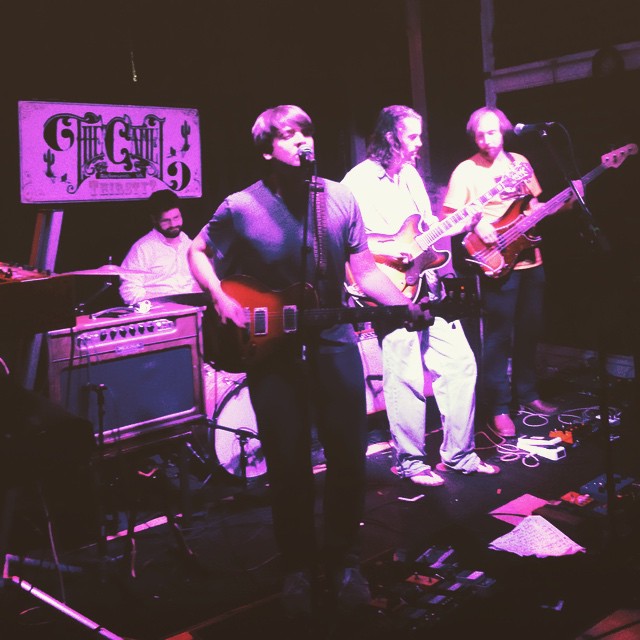 Without a place to crash for the night in Richmond, we hit the road at 2 AM for Raleigh, Whit's childhood hometown and a midway point between Richmond and Savannah, GA. We passed through some serious thunderstorms on the way out of town, but with the help of caffeine and a good playlist, our driver (who goes by the nickname Cruise Control) was able to bring us safely into Raleigh without a scratch. A big shoutout to the Fain family for opening up their home and couches to us. Y'all's kindness and hospitality was much warmer than any hotel room we could've stopped at. After some delicious chicken Philly sandwiches, we loaded back into the van and began working on our acapella jazz improvisation skills. 
Friday night's show in Savannah posed its fair share of challenges, but we took them in stride, albeit a highly stressful stride. The production staff at both the Pour House and the Camel provided us with wonderful sound reinforcement and a stress free environment, which allows us to not worry about mixes and feedback and all the other issues inherent in running sound in small rooms. Savannah, on the other hand, found us running our own mixes and monitors through a ramshackle PA system. Through our combined knowledge and experience playing concerts over the years, we came up with a workable front of house and monitor mix and the show ended up going on without a hitch. It also ended up being one of the larger crowds of the four night run, although maybe not the most enthusiastic towards the music. With a less familiar crowd, we decided to add some old rock and roll standards to our set, such as John Fogerty's "Green River" and the traditional folk tune "Goin' Down the Road Feeling Bad," made famous by the Grateful Dead (a nod to Jerry, if you will). 
Once again, we immediately hit the road following load-out and loaded up on coffee for the four and a half hour trek to Atlanta so the next morning's drive would be about half as long. After a failed attempt to get through the Last of the Mohicans (Revolutionary English dialect and trying to stay awake at three in the morning do not mix very well at all), we searched the airwaves for NPR's Jazz Night and it helped guide our spirits and bodies all the way in to ATL just as the sun was coming up. We landed at Kaitlyn's folk's house around 6:30 in the morning with just enough time to lay our heads down before waking up to a delicious, if not extremely varied, brunch of BBQ ribs, crab legs, mango, black cherries, and french toast from the wonderful Mrs. Connor. Many thanks to the Connor family for putting us up with warm beds and a delicious meal. We really couldn't have made it through this weekend without the wonderful friends and family that helped us along the way.
With our appetites sated, we started out on the home stretch towards Nashville for our last show of the weekend. Everything was trucking along smoothly up I-75/I-24 until we had climbed about halfway up Monteagle. Having seen signage signaling lane closures ahead, we knew we might hit some traffic jamming, but nothing in our imagination could've come close to the total standstill we wound up in. Saturday night's show was scheduled to start at five in the afternoon, and we were already closing in on three o'clock with another hour and a half left of driving. Jerry and Mikey must've been smiling down on us, the traffic began to thin and we were able to bring the Mara-mobile back up to cruising speed and with a quick stop in Murfreesboro to pick up some gear for the show, we made it to Utah Avenue with just enough time to set up by showtime.
The party was already popping off by the time we pulled in to town and, with the speed of a hippie rushing to put their tarp down at Red Rocks, we were able to get the PA set up and running to kick the party into overdrive. A four night run can take its toll on your physical body, but it also allows for exponential musical growth and more in depth conversation, which will definitely be evident once the recording for the 27th's show surfaces on our 
archive
. The show was bittersweet, as we had to say goodbye to our good friend Taber Bailey, who is on her way to pursue big dreams out in the mountains and open air of Colorado. Best of luck to her on the next leg of her journey through this big thing called life!
We have this coming weekend off the road, but we'll be back at it next Thursday (July 9th) at Douglas Corner with 
Larry Mitchell
 and his amazing band. Be on the lookout through July for the next single from Mirage and more details regarding the full album's release! And finally, a humongous thanks to Jaron Guy and David Jean for putting together this amazing bit of live footage from our most recent stand at Soulshine Pizza Factory in Nashville: