Greetings from headquarters! After taking a week off from updates, there's a lot of fun to fill y'all in on.
Following the four night run through the Southeast, we took a few days off for rest and relaxation, but immediately got back in the musical spirit for the big holiday weekend. Kaitlyn, Thomas, and Whit all made the trip up to Chicago to help send the Grateful Dead off into the annals of musical history. Sterling didn't completely miss out on the fun; he was lucky enough to find a kind soul streaming the audio and made his own dance party in his living room, complete with light show and hi-fi stereo system (it was almost like being there in person, minus the odor of hippies and whatnot).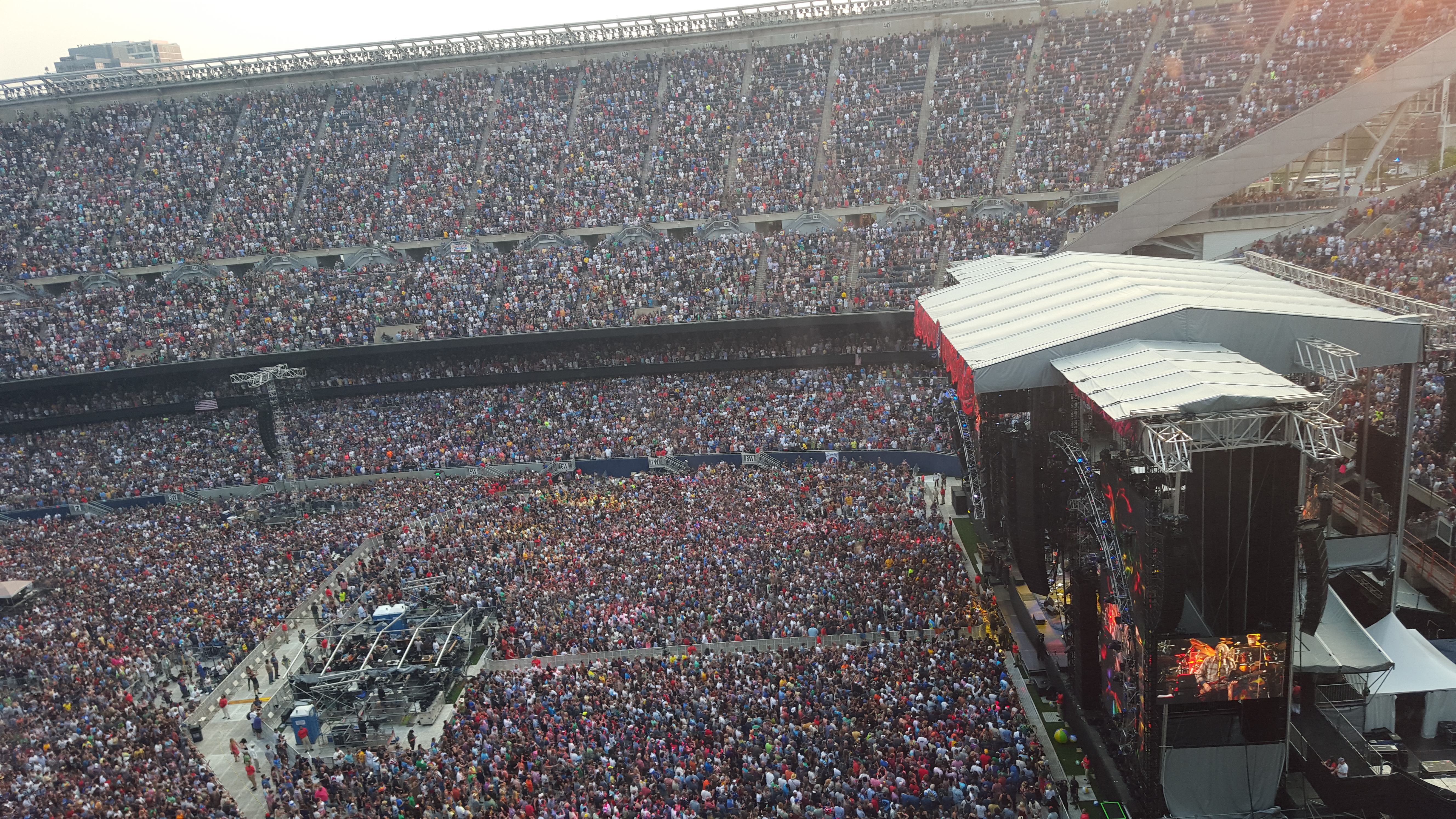 Whit had the following to say about his experience:
"After not being selected for tickets from the mail order lottery, then sitting on Ticketmaster for 5 hours with no luck when the system had crashed, then when the tickets were rereleased, I got thru, entered my info and got to a page that said "Congratulations!!! your order is complete," only to learn that my order did not go through, I basically gave up any hope of going to see the Dead's final run of shows because of the incredibly high demand. 
On the Thursday before the Chicago shows were set to begin, I got invited by a friend to ride up from Nashville to the final show. He was going with a family friend and his buddies who were all huge dead heads back in the day. He mentioned that his family friend, Matt, might have a lead on a ticket. I exhausted all of my resources with no luck until Saturday, July 4th, my friend informed me that his friend scored me a ticket. It made my July 4th to say the least!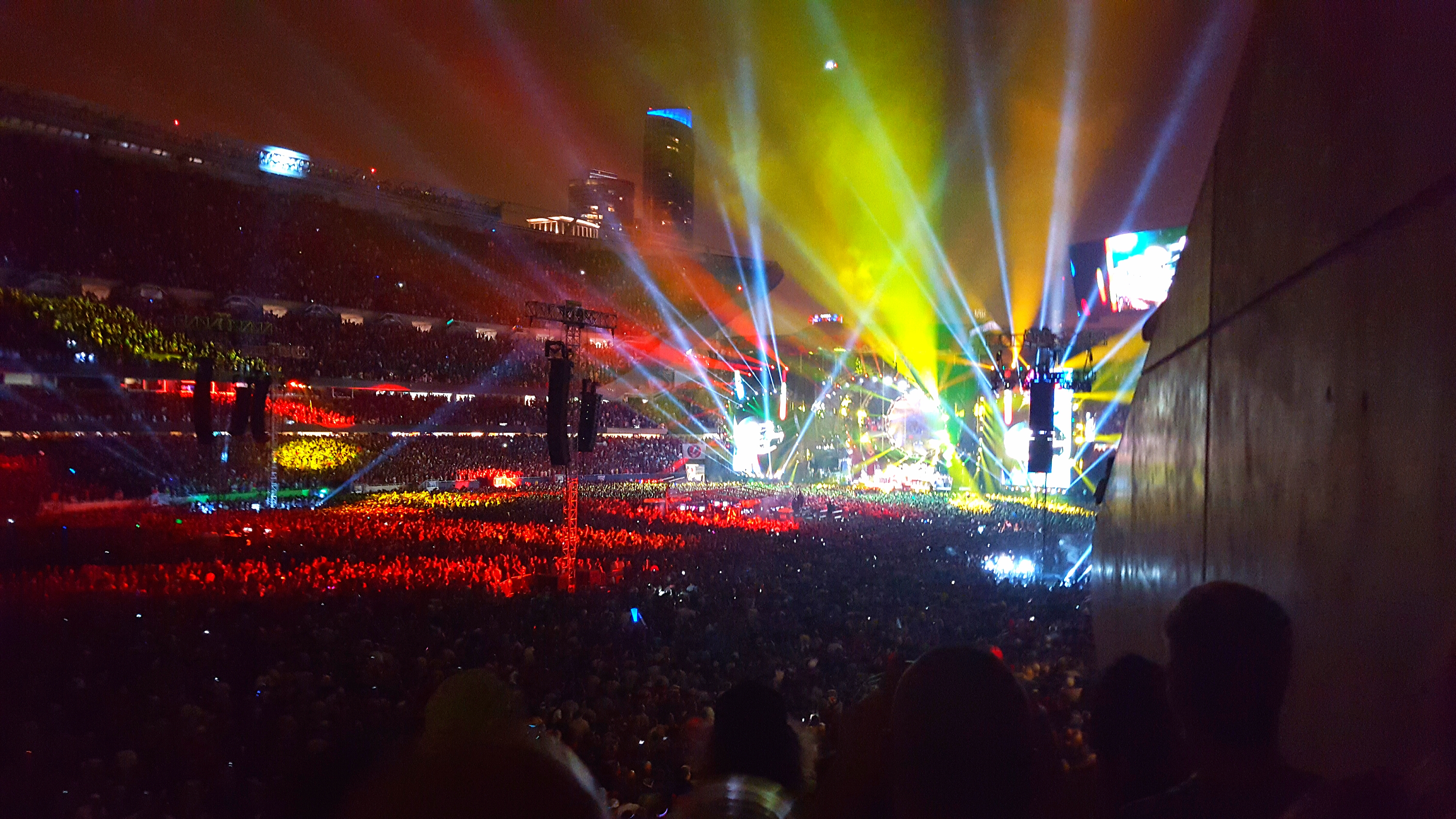 I set off along with two buddies at 7:30 am on Sunday July 5th, bound for Chicago and the last Grateful Dead show ever. It took us about 9 hours to get there but everyone was so excited and in such high spirits, the trip was really smooth. When we met up with the other four gentlemen we were going to the show with, I tried to pay the guy who had found me the ticket and he wouldn't accept it. I was stunned. He told me to pay it forward when I was his age and to spread the love to the younger generation like he'd had older friends do for him when he was my age following the dead around. It was so generous and inspiring, I was very touched.
     
When we got to the entrance, Matt realized that he had left his own ticket in his hotel room. He turned around and raced back. One of his friends that we were with told him he wouldn't dare let him go alone and went with him. Now that's a good friend! Don't know if I would do that or how many of my friends would. It just goes to show how the value of friendship. 
We got into the show and walked down to the floor. I somehow managed to finagle a wristband from a ticket checker and made it down. I had seen pictures on social media of the shows but being in the middle of a sea of 70,000 people was something I'd never experienced before. And then they came out....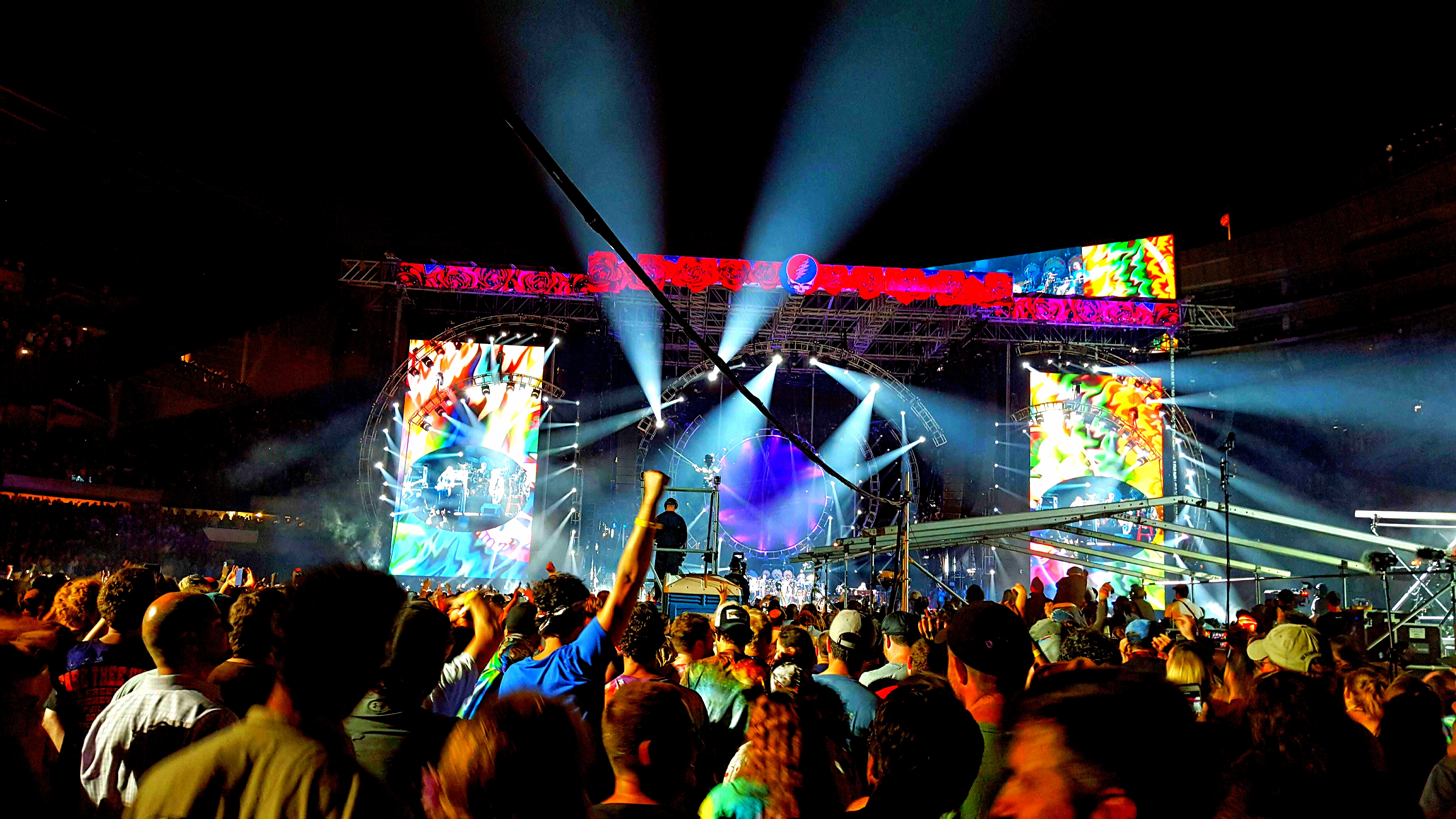 Now, I've grown up listening to the Grateful Dead, learning their songs, going to see various incarnations of their member's projects (Furthur, the Dead, Phil & Friends, Ratdog, etc.) but never have I felt the power of being surrounded by that many fans in the closest thing to a Grateful Dead show that will ever be again. It was truly amazing. Being with these 4 older guys who all grew up together and shared so many experiences to this music was incredible to watch in itself. When everyone would shout a line to a song together or remember a moment where a section of a song played role in their past, it was pretty remarkable. 
   
The first set ended with an epic throwing stones in which Phil, Trey, and Bobby all came together and were playing off of each other with the most energy of the show yet. It went by too fast. Then, when Truckin' to opened the second set, there was a feeling amongst the audience like "this is it. Lets give em all we've got." "What a long strange trip" indeed. I think anyone can relate to that passage. 
   
Althea is one of my favorite songs of all time and when they played that, everyone I was with knew how much it meant for me to get to hear them play it. The enthusiasm was obvious and I felt such a range of powerful emotions between sadness and joy because it's such a sullen and beautiful song. The best kind of songs are when you don't know whether to laugh or cry, so you kind of do both. 
   
The Terrapin Station and Touch of Grey really sealed the deal. I'd never heard Touch of Grey performed live and it so eloquently closed out the band's career with everyone screaming, "We will get by. We will survive." So true. There music lives on!
Kaitlyn was able to sum up her experience as well:
"The day I discovered The Grateful Dead was the day I really feel I discovered music that spoke to me…that awakened sense I didn't even know I had within. It was the first time I really felt like music had taken me on a journey, and I could never really pinpoint what made it so spiritually powerful.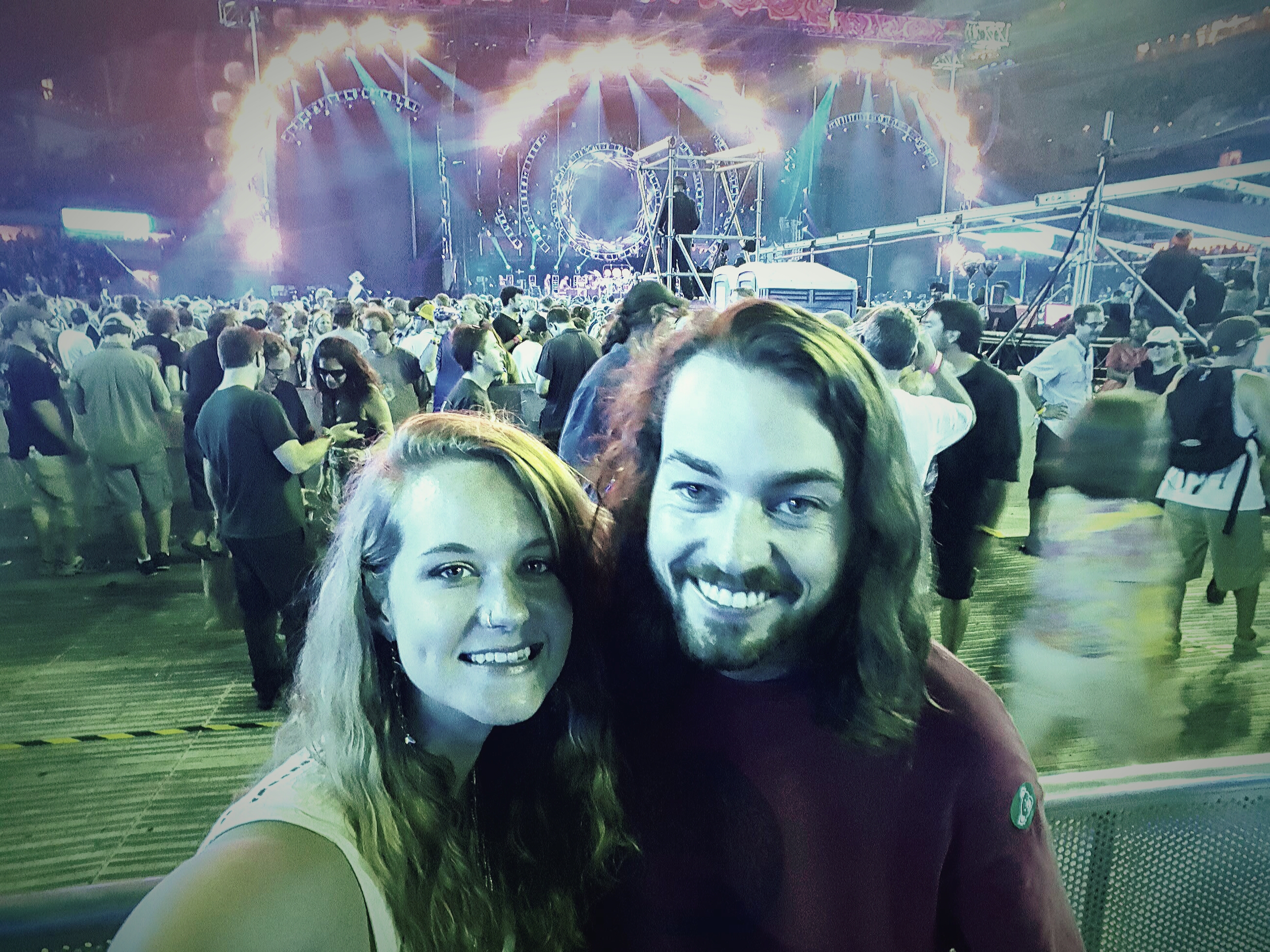 I was born in 1989, so obviously I was never given the opportunity to see The Grateful Dead and Jerry Garcia, but as I studied this band and their music more and more and watched videos of their shows throughout the years I realized there was something much greater going on here, but something I never thought I'd be able to fully understand. There is so much to be said about what happened in Chicago last weekend, and here I am still at a loss for words. It was without a doubt the most emotional experience of my life thus far. I remember this one particular moment on the night of July 4th when they opened their second set with "Bird Song" (one of my absolute favorites)…and I looked around and tried to take in the whole experience: the music, the 75,000 people, the lights and production, etc…and I just had this overwhelming flow of emotions that literally left me paralyzed as I realized that this is what it was like, and for the first time I could feel the raw power of the Grateful Dead and their legacy. I observed the crowd around me and saw people of all ages and backgrounds coming together to be completely open to meeting new people, experiencing new possibilities, and most importantly to the new territories of music that would come with the improvisational nature of the band.

This is the band that really bridged the gap between themselves and their live audience. They avoided repeating songs and stretched the boundaries of their music each night because they realized fans would follow them and see multiple shows in a row…and this ultimately led to what I consider to be the most unique fan base in music history. People began to realize that GD shows were experiences in which literally anything could happen…so they began taping shows in order to record and share each moment with those fans who couldn't be there. I realized in this moment that the "journey" I had always been on while listening to the GD was just a continuation of a much greater journey that had begun 50 years ago.

These guys didn't start playing together to be rock stars or get girls or be famous…they just wanted to play and create something unique. And in Chicago last week I could genuinely feel it all...the spirit of this long strange trip that was still very much alive. It was such an enlightening experience that I will probably never fully be able to explain, and it made me even more eager as a musician to create something that can be that complex, familiar, rich, unpredictable, and exciting all at the same time."
Thomas, sometimes a man of many words, sometimes few, said he experienced things he'd never seen that somehow still felt familiar. Mickey Hart, percussionist and mostly full time drummer left the crowd with some beautiful words of wisdom that can resonate with all of us in our lives: 
"The feeling we have here — remember it, take it home and do some good with it. I'll leave you with this, please, be kind."
After the enlightening experience of Fare Thee Well, we regrouped in Nashville for a one-off show with Grammy Award winning producer and guitarist 
Larry Mitchell
 at Douglas Corner. Our buddy Russ Garner won the MVP award for that night, playing drums for all three artists on the bill. The show coincided with Summer NAMM, a conference in Nashville for music retailers and manufacturers. It basically amounts to Disneyland, or the world's largest toy-store, for musicians and merchandisers. Outside of the conference, you can find countless open jams and impromptu concerts featuring some of the biggest names in music at nearly any bar or venue in the city. This allows for collaborations and performances you'd never see anywhere else in the entire world. 
The rest of July has us traveling south for a one-off at Big Sky Bulkhead in Atlanta on the 18th, then eventually making our way northeast to play the Bayou in America's capital (23rd) and Rockwood Music Hall in the Big Apple (25th) with a stopover in Knoxville at Preservation Pub (22nd) along the way. In honor of the Grateful Dead's final shows, we've worked up a new cover for this run of shows, but you'll have to come to the shows to hear which one it is.
The new single off Mirage, "Take It or Leave It," dropped this past weekend, as well. You can find it on 
iTunes
 or stream it for free on 
Spotify
. We're really proud of the way the record sounds and hope you check out the singles to get a taste of what's in store for the rest of the record.
We'd like to leave you with a clip of another track from Mirage. "One More For The Road," filmed live at the Charleston Pour House.